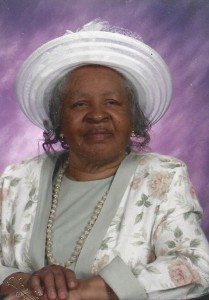 Nelda Elizabeth Teagle, a radiant jewel found earth's realm on June 24, 1930.  She departed this life on Sunday, September 17. 2017 at Penisula Regional Medical Center in Salisbury, Maryland. Nelda was a cherished and beloved child of Howard and Virgi Milbourne.
Nelda began her Christian journey as a child at Saint James United Methodist Church in Westover, Maryland. Upon moving to New York, Nelda became a dedicated and trusted member of the Church of God in Christ in Rockaway, NY.  While there, she served diligently on the usher board and Sunday school boards.
Sharing the true and divine word of God to children gave her the greatest pleasure.
Returning to Saint James in 1969; Nelda continued spreading the love of God's word through her Sunday school ministry. In her many travels to Seattle, San Francisco and Atlanta, she would always let you know "Glad to be here, but I've got to be back on First Sunday".
Ms. Nelda's kindness and dedication were exemplary as she carried out her duties as a communion steward.
Aunt Nelda would often be seen walking to church, rain, sleet or snow.
She is survived by one son, Golden Teagle (Zandra); two grandsons, Jamaal (Brittany) and Jaraad Teagle; one brother, Howard Milbourne (Carol); one sister-in-law,  Eunice Milbourne and a host of loving nephews, nieces, and a multitude of other relatives and friends.
In addition to Ms. Nelda's parents, she was preceded in death by her loving husband of 49 years, Irving L. Teagle; one sister,  Margaret Jones; and one brother, Ernest Teagle.
A celebration of life service will be held 11:00 AM Saturday, September 23, 2017 at Saint James United Methodist Church in Westover with a viewing one hour prior. Interment will be at the church cemetery.
2 Responses to "Nelda Elizabeth Teagle"
Share a Memory or Thought